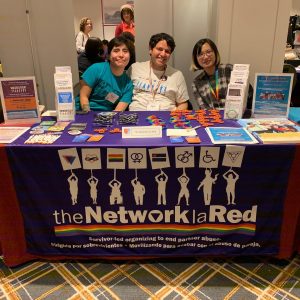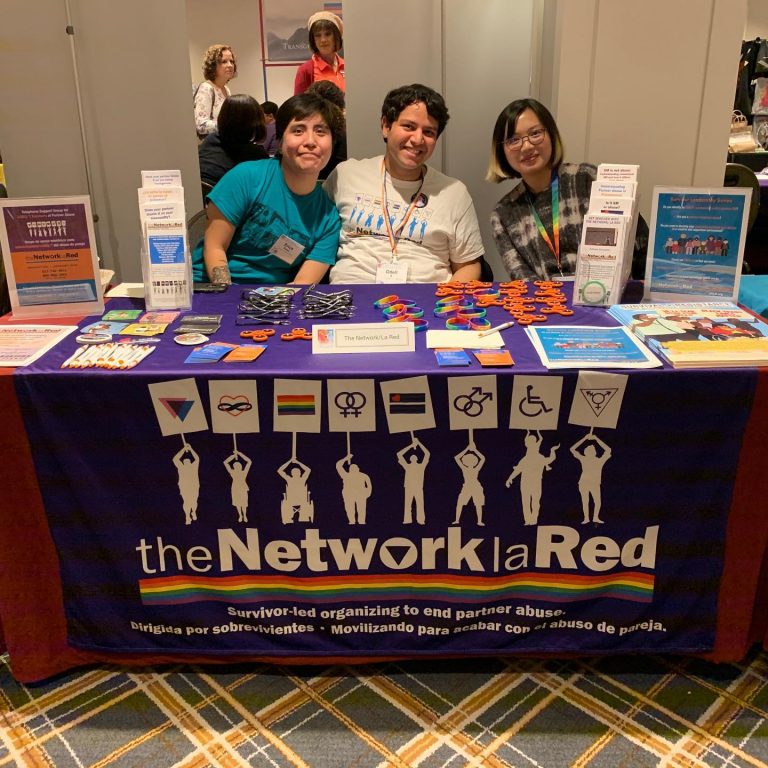 Do you want to support survivors of partner abuse in your communities? Do you want to bring information about partner abuse into your community so that survivors have better support and experience less isolation? Do you want to have an impact on the lives of survivors and your community?
Volunteer with The Network/La Red! Learn about our different volunteer opportunities and training methods and fill out a volunteer application! People of color, trans people, survivors of partner abuse are especially encouraged to apply.
"I feel like The Network/La Red has been one of the best experiences I've had, as far as training, volunteering, and teaching." - Anonymous Volunteer
TNLR Volunteer Program

There are now two ways to get involved in TNLR's Volunteer Program. Folks interested in direct service (DS) can become DS volunteers and volunteers interested in outreach, education and/or organizing (OEO) can become OEO volunteers.
Direct Service (DS) Volunteers: These are the folks who work directly with survivors. When a survivor needs information, needs to plan around their safety, or simply to connect with someone who can listen without judgment these are the volunteers who are there. DS volunteers provide connection to community, peer-support, safety planning assistance, information about partner abuse, and resources. There are several ways a DS volunteer supports survivors including staffing our 24-hour crisis hotline, visiting with guests in our Housing Pathways Program, and facilitating support groups.
Outreach, Education, and/or organizing (OEO) Volunteers: These are the folks that bring the conversation about partner abuse into the community which in-turn provides more support for survivors and decreases isolation. Some volunteers become the face of the organization. Attending events, giving information about TNLR, partner abuse and our services. They provide survivors, their families, and their friends with access to support and other services. Some OEO volunteers teach about partner abuse through our PACE (partner abuse community education) program. Other volunteers help through committee work planning events, planning around how we do our work with intention and care, and organizing how we connect in communities.
Requirements:
TNLR Training: Core Training will provide volunteers with information about what partner abuse is, information about the communities we specifically serve, information about TNLR's philosophies regarding partner abuse and the roots of oppression, as well as basic screening skills. Volunteers completing the core training cannot work directly with survivors as this portion of the training does not cover those skills. The Complete Training builds on the Core Training and provides more extensive information and practice in screening, supporting survivors, legal information, crisis intervention, and listening skills. This training is specifically for volunteers who will do direct service. Applications are accepted year-round however interviews are held in August and September for the Fall Training and in January and February for the spring training. Core training for OEO volunteers is about 35-40 hours long and Complete Training is about 60-65 hours long.
Volunteer Application
"By the end of volunteer training, we had the tools, practice, resources, and support we needed to start our work as volunteers. Plus, the trainers and my fellow trainees are awesome! Even on the more intense days, I so appreciated our important time together. And I'm excited to be part of The Network/La Red team now!" - Jessica, Volunteer
Join our Fundraising and/or Paint the Town Planning Committee!
Each year, we host our annual fundraiser, Paint The Town (La) Red, to bring our communities together and raise essential funds for our programs. The volunteers in our Fundraising and Paint the Town Planning Committees make this event possible!
As a member of one or both of the committees, you will attend monthly planning meetings and take on projects based on your skills/interests (auction solicitation, sponsorship solicitation, theme and program planning, etc.).
Requirements:
No formal training is required. We will provide more information about our annual fundraiser and your role.
Attend monthly meetings from August to January and bi-weekly meetings from February to April (evenings, TBD).
Complete additional responsibilities in between meetings like auction or sponsorship solicitation.
Volunteer at the event – Thursday, May 2, 2019, 6:00PM – 9:00PM.
Interested in cultivating community with us? Fill out a volunteer application today!
"I found myself saying 'Yes!' a lot during volunteer training; it really mirrored my own values about empowerment and social justice, and gave me real skills and practice for the work we do with survivors and in fighting oppression. I really like being able to volunteer doing direct services and organizing, and being part of an organization committed to both." - Ian, Volunteer
"The Network/La Red has such a good policy in place that makes it easy for volunteers to stay connected to the organization." - Amy, Volunteer