The Survivor Leadership Series is an educational and training space for survivors of partner abuse in the LGBQ/T, Kink, and/or polyamorous communities. Our hope is to support survivors in feeling better prepared to lead in and outside of their communities, educate others about partner abuse and its connection to oppression, and decide when and how to share their experiences.  
To continue our efforts to keep everyone safe during this pandemic, we are holding our Survivor Leadership Series via video conference.
You have a voice. You are not alone. Your stories are powerful.
Right now, we are no longer accepting applications.
We offer workshops, trainings on skill development, space to process and connect with each other, and opportunities to share, all in a supportive environment with folks who share an experience of survivorship.
The purpose of this group is to cultivate leadership among folks in the LGBQ/T, polyamorous, and/or SM communities   
Applicant Requirements for the Survivor Leadership Series:
Be a survivor of partner abuse
People of color and transgender people are especially encouraged to apply
Be interested in learning about the connections of partner abuse and systemic oppression
Desire for community and social justice
Be open to exploring different creative mediums
Applicants must be able to commit to attending in-person meetings in Boston twice a month for five months
Please help us spread the voice by sharing this flyer on our social media! And, follow us on facebook, instagram and twitter.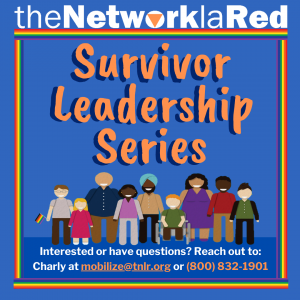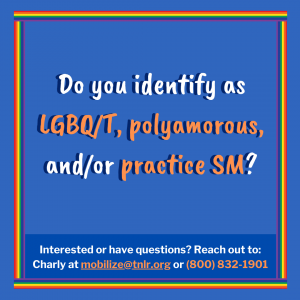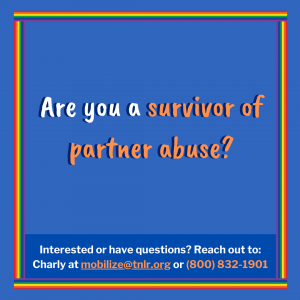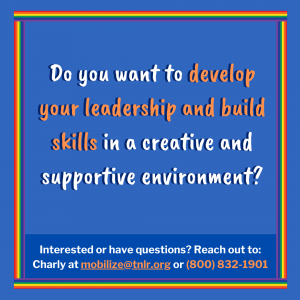 The Network/La Red does not discriminate on the basis of race, color, religion, sex (including pregnancy and gender identity), national origin, political affiliation, sexual orientation, marital status, disability, genetic information, age, membership in an employee organization, retaliation, parental status, military service, or other non-merit factor.