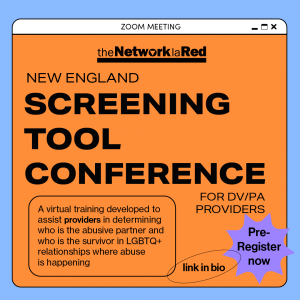 Announcing our New England Screening Tool Conference 2021! This training was developed to assist DV/PA providers in New England, who have recently attended a training around domestic violence/partner abuse (DV/PA) in LGBTQ+ communities within the past year, in determining who is the abusive partner and who is the survivor in LGBTQ+ relationships where abuse is happening.
Day 1 on May 12. Day 2, either May 13 or May 14 (participants choose which day works best for them). 9:30am-5pm each day.
$175/participant early registration, by April 14th
$225/participant, by April 30th
Interested? Complete this pre-registration form.